over 1 year ago by VMA GROUP
The Evolution of ESG Within Internal Communications
​VMA GROUP was delighted to host another insightful Internal Communications Advisory Board event with our guest speaker, Natalie Waugh, a Communications Specialist, with expertise in ESG Strategy and social impact programmes.
Our Advisory Boards are an ongoing series of networking experiences catered towards professionals within the Internal Communications function. Run every quarter, they are chaired by our CEO, Andrew Harvey, who leads the discussion with a focus on a chosen topical area.
What's the difference between ESG and CSR?
ESG (Environmental Social Governance) has evolved rapidly over the last few years from the more commonly known terminology of CSR (Corporate Social Responsibility). CSR was typically a part of the marketing or corporate communications team with a bias towards philanthropy, involving positive PR, charitable donations and various employee volunteering opportunities.
One of the main criticisms of CSR was the self-regulation and freedom to pick and choose the issues that need highlighting in order to boost the organisation's image. On the other hand, ESG requires more precision and focuses on measurable efforts. For example, rather than pledging to "support sustainability efforts," ESG would highlight the steps necessary such as managing carbon footprint, preparing a climate change response or establishing sustainable supply chains.
The benefits of ESG strategy
ESG is an incredibly beneficial tool for investors, which provides a clear and concise overview of measured business efforts. Depending on the industry, these can involve quantifying the use of natural resources or conflict materials, assessing carbon footprint and truly understanding how they impact the local areas they operate within, such as the provision of jobs to the immediate community. The adoption of ESG has become a fundamental part of business operations and currently, it is topping the agenda at the board level.
As a strategic function, ESG aims to demonstrate a more involved effort – one that sits at the core of the business. Therefore, we are witnessing a heightened interest in obtaining appropriate accreditations and following frameworks. However, the opaque nature of the status occasionally raises questions about the value they present. In particular, this can contribute to the issue of greenwashing or social washing, if the commitments are not supported by any significant metrics – this is precisely what a robust ESG strategy is looking to minimise.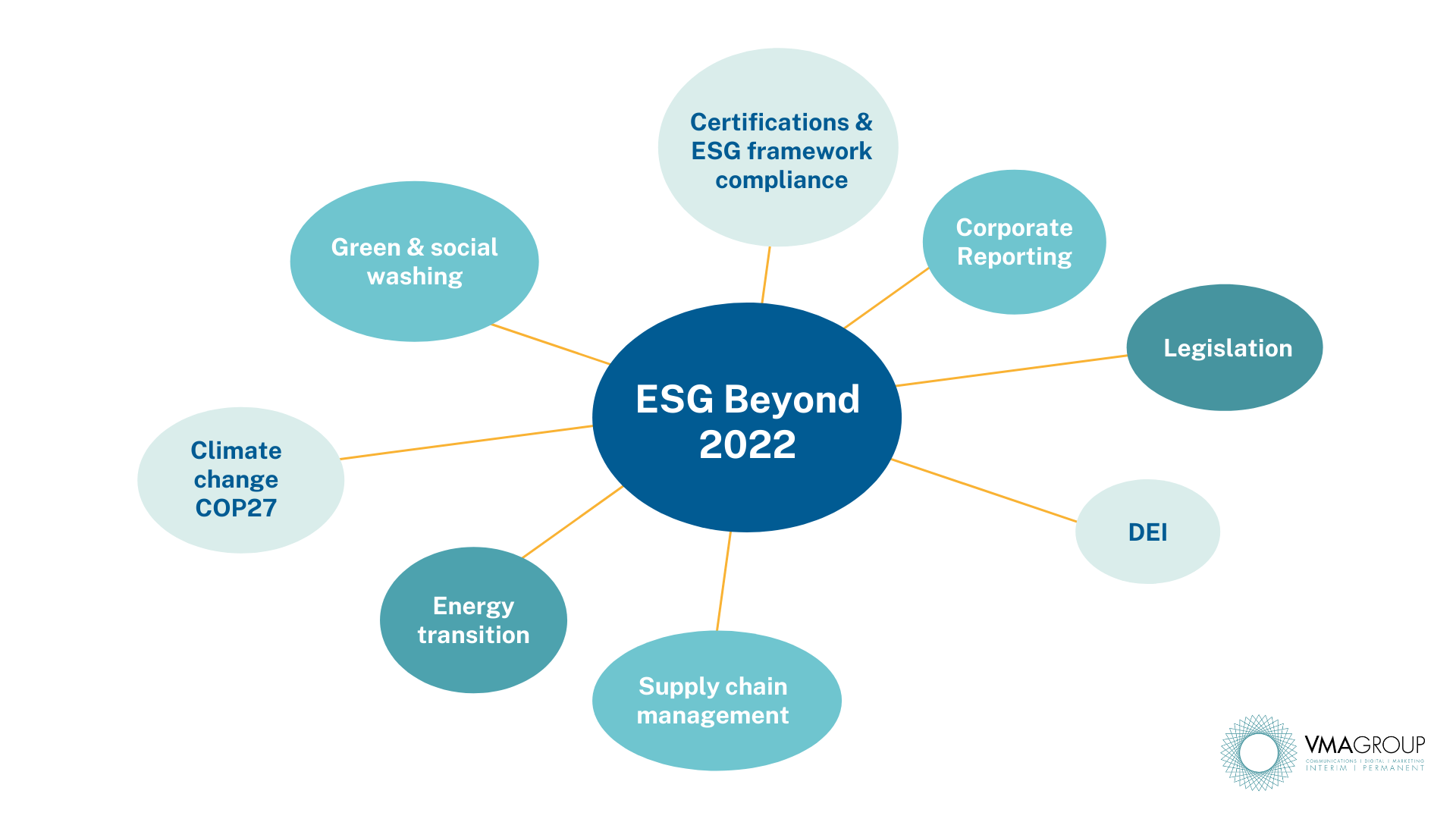 ​
How to ace your ESG communications?
Based on our discussions on building a sustainable and equitable future, here are the top tips for creating a successful ESG communications strategy.
Be transparent
The path to sustainability is a long journey, and a vast majority of organisations would prefer to be further down the road. However, it is important to acknowledge your shortcomings as transparency is the foundation of trust and credibility.
To remain transparent, ongoing communications about the issues and challenges that the company is facing, your goals and current performance are paramount.
Honesty is the best policy
As is often the case in the world of communications, priorities shift and budgets get cut. Consequently, occasionally targets are missed. You should strive to be honest, address those challenges and provide context.
On the other hand, getting exposed may cause damage to corporate reputation through claims of greenwashing or social washing, which are significantly more difficult to rectify.
Embrace ESG as a cornerstone of the business
The sustainability, social impact and DEI goals can only be achieved with a strategic approach which is at the core of the business strategy.
For successful communications, it is important to continue to work with other stakeholders, build connections and create an integrated approach.
Lead by example
A strong ESG strategy, with a compelling narrative, needs leadership from the top, with a sense of purpose.
Your digital presence should amplify the voices of your leaders and highlight the current initiatives. Make sure that your goals are clear and that your ESG contributions are authentic.
Keep the message on-brand
Utilise the power of your brand's identity and tone of voice to effectively communicate your sustainability and DEI messages.
ESG is about transformation, innovation and a real positive impact on the community, so ensure that your message is relevant to your brand.
If you are looking to develop your Corporate Social Responsibility strategy and need an ESG specialist to lead the project to ensure your message is authentic and on-brand, get in touch with one of our consultants today.
Whether you are hiring on a permanent, contract or interim basis, we have a network of experts that can help.
**************************************
VMA GROUP is a leading international interim, contract, temporary and permanent recruitment and executive search specialist. We are specifically focused on providing support to the communications, digital and marketing communities.
Our specialist practice areas cover: communications, corporate communications, internal communications, change communications, PR, media relations, financial communications, CSR, public affairs, investor relations, marketing, digital marketing and agency services.
We have a reputation for providing expert consultancy services and advice, supported by in-depth knowledge of the professions we recruit for. Our thought leadership and benchmarking studies have become go-to resources for the communications and marketing industry, supporting planning and decision-making for organisations of all shapes and sizes.
In the UK, VMA GROUP has offices in London and Manchester and in Europe, VMA GROUP has offices in Amsterdam and Brussels, but we work with organisations and individuals on a global basis.
VMA GROUP is committed to equal opportunities and is a Diversity Pledged Recruiter.