7 months ago by Anna Newsome
Meet the Author; In Conversation With... Anne Gregory
It's that time again! Time to tell you all about our most recent Meet the Authorevent hosted and organized by VMA GROUP's Crystle Pearce. With previous speakers including Lesley Allman, Jenni Field and Kim Page, on Thursday 18th May we heard from the co-author of 'Strategic Public Relations Leadership', Anne Gregory PhD. As Professor Emeritus of Corporate Communication at the University of Huddersfield and Board member of the CiPR, this Meet the Authorevent welcomed an audience predominantly formed of external and PR communications professionals.
Stabilising the Compass
Everyone seated with a drink in hand, Anne opened the discussion around 'stabilising the compass' – the four points which senior comms professionals endeavour to balance: obligations to society, preserving the value of organisational assets, securing the stakeholder network and achieving operational excellence. Anne delved into the trials and tribulations we may experience when this 'compass' is offset and highlighted the importance of staying up to date with current affairs to ultimately 'stabilise' this communication compass.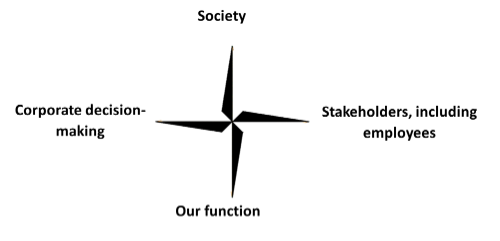 ​
​
​
​
​
​
However tempting it may be to switch-off from the sadly all-too-often bleak news stories, as PR and external communications professionals, Anne highlighted the importance of staying up-to-date with current affairs. With the Russia-Ukraine war at the forefront of the global stage (amongst turbulent UK political situations in our own back yard), as well as the aftermath of a global pandemic…and not-to-forget the rise of AI, it's safe to say the world is in an unpredictable state, which ultimately forces comms professionals to become highly adaptable. Whilst there is no instant cure to ensure successful navigation through constantly variable circumstances, Anne invited the audience to consider a route-map as a guide through complex and sometimes messy situations that may arise.
The Purpose of PR
Later in the evening, Anne moved to discuss the purpose of PR professionals and how to build durable and influential relationships with senior business leaders and stakeholders. As PR professionals, it is vital that we can work collaboratively with senior stakeholders to ensure a favorable outcome on both sides, namely: protecting company brand, assisting on strategy development and guarding the organisational character. In this section, the audience descended into a short debate over the legitimacy of PR/external communications as a business function. After a lively discussion, it became clear that with the world being more connected than ever and with an AI-driven '4th industrial revolution', PR professionals are perhaps more valuable to organisations than ever before.
Missed This Event? Want Another Bookmark?
Fear not! VMA GROUP has created a series of 'Meet the Author' events, designed with you in mind. The next event is due to be hosted on the 9th of June 2023 and we will be welcoming Advita Patel and Priya Bates, authors of Building a Culture of Inclusivity, effective internal communication for Diversity, Equity and Inclusion.
Noted as a 'fantastic platform to meet like-minded professionals', VMA GROUP's Meet the Author events establish an engaging space whereby individuals can truly 'expand their skill-set and create a network' (Niall Ford, IC Analyst from Alvarez & Marsal). This really is a series of events not to be missed – you will be sure to come away with nuggets of information and a stronger network… and if that's not enough, how can you say no to a drink on VMA GROUP and a free bookmark for your collection?
If you are interested in finding out more, please contact Crystle Pearce via email: meettheauthor@vmagroup.com
​**********************************
VMA GROUP is a leading international interim, contract, temporary and permanent recruitment and executive search specialist. We are specifically focused on providing support to the communications, marketing, digital and change communities.
Our specialist practice areas cover: communications, corporate communications, internal communications, change communications, PR, media relations, financial communications, CSR, public affairs, investor relations, marketing, brand, digital marketing and agency services.
We have a reputation for providing expert consultancy services and advice, supported by in-depth knowledge of the professions we recruit for. Our thought leadership and benchmarking studies have become go-to resources for the communications, marketing, digital and change industries, supporting planning and decision-making for organisations of all shapes and sizes.
In the UK, VMA GROUP has offices in London, Bristol and Manchester and in Europe, VMA GROUP has offices in Amsterdam and Brussels, but we work with organisations and individuals on a global basis.
VMA GROUP is committed to equal opportunities and is a Diversity Pledged Recruiter.