7 months ago by VMA GROUP
Advisory Boards | Changing Communications
​​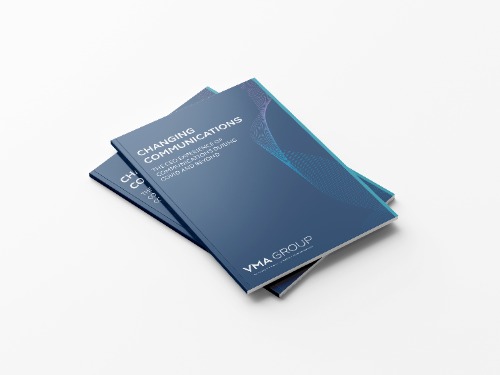 ​
VMA GROUP launched its CEO report Changing Communications – the CEO experience of communications during Covid and beyond at its Advisory Board meetings in Manchester and London last week. Communications leaders from a diverse sector mix came together to discuss the findings and share their experiences of how Covid impacted their organisation across financial services, tech, NHS, sports, nuclear and retail. Despite their very different operational challenges it was clear that hybrid working and digital transformation were the biggest changes and ongoing focus for future working strategies.
VMA GROUP Managing Director Lucy Cairncross said: "What was apparent when speaking with CEOs was their reliance on their communications leader during the pandemic – they were an integral part of the core team and helped organisations navigate through the ever-changing world that Covid thrust them into. As one CEO put it – you cannot be effective as a CEO without a trusted communicator at your side."

The legacy of communications functions ramping up their activities to meet need, particularly employee comms, sees them now having to push back on the higher level of expected comms or get more resource to meet the demand. CEOs saw a real benefit for better employee engagement and more authentic and personal communications helped to keep people connected when they were working remotely. The CEOs interviewed said that internal communications is crucial in getting the leaderships team's vision down into the organisation and getting people empowered and mobilised. It is now the communications leaders challenge to ensure they capitalise on this moment and ensure their business continues to prioritise and invest in this area.

Hybrid working kicked up a lively debate with no one feeling their organisation got it quite right. It continues to be a focus for future working patterns and businesses and employees have very different views on what that future should look like. Several CEOs cited the fact that digital allowed them to get around a business quicker and be more visible than in person site visits of the past but others worried that they lost energy and collaborative element that in person working enables. All are looking at how they tackle this going forward, ensuring purposeful travel and community building alongside the work / life balance that is now expected. This is more so in the newer entrants to the job market who do not want to be the workaholic, available 24/7 parents that they grew up with. It is about culture, an organisation's purpose and development for their careers. And this has firmly put ESG on business leaders' radar and need to have a compelling corporate narrative and purpose.

Around the table, the Communications Directors told us that this was one of their main focuses for the next few years with ESG finding its way into corporate communications having previously sat with audit or compliance teams. There is now a need for a wider cross business strategy and plan in order for organisations to track and improve their activities. As one CEO shared the attention is now on ESG, the environment and diversity. These themes, which used to be there on the fringes, are now really part of the foundation of the business.

Lucy Cairncross added: "People and planet above profit has become a reality for many businesses, not only to meet their long-term ESG commitments but also to attract and retain the best talent who expect active engagement on climate change and societal issues. Communications leaders need to support their businesses to do things differently, not only being at the forefront of defining organisation purpose but also playing a leading part in developing the leadership and culture of the organisation with regards to sustainability, both inside and out."

VMA GROUP's next Northern Advisory Board meeting with take place on Wednesday 10th May in Birmingham. For further information please get in touch with Julie Mazzei, Principal Consultant for the North and Midlands jmazzei@vmagroup.com

Below are links to other upcoming events the team are running:

March 21st – Meet the Author In Conversation With Kim A. Page – London Southwark – for more info and to save your space, email meettheauthor@vmagroup.com

March 29th – Contractors' Case Studies Webinar – Virtual

Here is a link to further VMA GROUP surveys and reports.
​**********************************
VMA GROUP is a leading international interim, contract, temporary and permanent recruitment and executive search specialist. We are specifically focused on providing support to the communications, marketing, digital and change communities.
Our specialist practice areas cover: communications, corporate communications, internal communications, change communications, PR, media relations, financial communications, CSR, public affairs, investor relations, marketing, brand, digital marketing and agency services.
We have a reputation for providing expert consultancy services and advice, supported by in-depth knowledge of the professions we recruit for. Our thought leadership and benchmarking studies have become go-to resources for the communications, marketing, digital and change industries, supporting planning and decision-making for organisations of all shapes and sizes.
In the UK, VMA GROUP has offices in London, Bristol and Manchester and in Europe, VMA GROUP has offices in Amsterdam and Brussels, but we work with organisations and individuals on a global basis.
VMA GROUP is committed to equal opportunities and is a Diversity Pledged Recruiter.